Powered by Arizona State University, UDG joins the Cintana Alliance to provide Montenegro and Balkans students with access to world-class degree programs and cutting-edge research.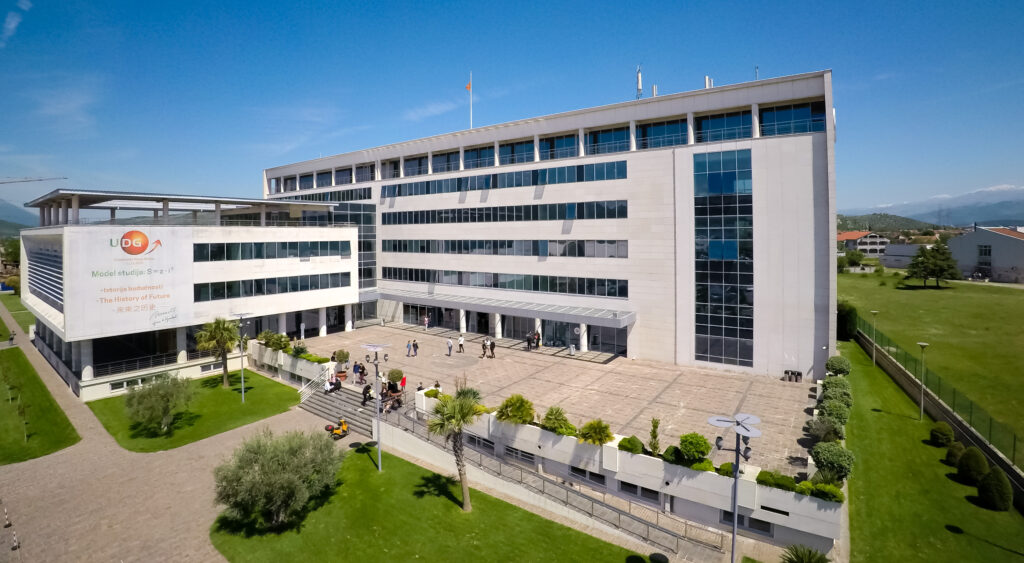 PODGORICA, MONTENEGRO – March 30, 2022 – The University of Donja Gorica (UDG) announced today a 20-year strategic partnership with Arizona State University, ranked the most innovative university in the U.S. by U.S. News and World Report for the last seven consecutive years and one of the world's most prestigious universities by Times Higher Education; and the Cintana Alliance, a global network of ambitious universities working together to develop and scale high-quality academic programs.
This partnership significantly improves the quality of higher education and the opportunities that will be open for young people from across the region. Thanks to this partnership, UDG's academic environment will welcome the leader in innovation in the region, bringing its global influence in scientific research and the best online program for undergraduate business degrees. In the future, UDG and the Cintana Alliance will work collaborative to expand UDG's resources beyond Montenegro through online degree programs and regional learning centers throughout the region.
"The key goal of this cooperation is to develop the UDG as a research-focused, entrepreneurial university." Said Veselin Vukotic, Rector & Leading Co-Founder of the University of Donja Gorica. "In collaboration with other universities in Montenegro and the region, we aim to transform the university into an institution that is not only educational, but one that integrates education, research and development, and as a result becomes one of the key drivers for growth and transformation in its community."
Founded in 2007, UDG has evolved into a unique entrepreneurial university with a strong vision toward increasing access to high-quality education. Today, UDG offers a range of undergraduate programs, master's programs, and doctoral programs, serving over 3,000 students. UDG's programs are oriented to each individual student while still providing a fundamental technical knowledge in core areas, including IT, research, entrepreneurship, and communication skills, as well as a focus on learning multiple languages. By maximizing the exposure students have to a wide range of learning experiences, UDG is becoming a transformational leader in the region.
"Through highly accelerated rates of innovation, significant use of technology, and by implementing a transformative culture, we figured out how to create a fabulous learning environment for our students and faculty," said Michael Crow, president of ASU. "We've built innovative tools and technology capabilities to advance things in new ways. As the most innovative University in the U.S., ASU partners with institutions who also aim to become the most innovative universities in their regions. We believe UDG shares our mindset and values and we're very excited to partner with them to be a part of their growth. We're all in on this relationship and look forward to working with them."
In joining the Cintana Alliance, UDG will offer a unique educational model that opens a wide range of new academic opportunities for students such as access to ASU curriculum, as well as the unique opportunity to participate in dual degree programs, student mobility programs, co-teaching, and research exchanges. Students will benefit from career-oriented curricula, practical experience in real-world projects, opportunities to solve some of the world's most pressing challenges and to increase competitiveness in their future careers.
"Around the world, higher education is becoming more and more important to the economic, social, and geopolitical fabric of a country," said Douglas L. Becker, founder and chairman of Cintana Education. "By being able to expand the resources of one of America's finest universities to students across the Balkans, we are opening critical new pathways for collaboration, innovation, and development. It is a great honor to be able to welcome UDG to the Cintana Alliance and we look forward to many years of collective growth and shared learning."
As part of the Cintana Alliance, UDG joins a select group of universities from around the world including, Almaty Management University, American University Kyiv, Galala University, Ho Chi Minh City University of Economics and Finance, Istanbul Bilgi University, Universidad Autonoma de Guadalajara, Universidad Latina de Costa Rica, Universidad Internacional del Ecuador, and The NorthCap University.
About The University of Donja Gorica
University of Donja Gorica (UDG) is a unique interdisciplinary institution founded in 2007 and located in suburban of Podgorica, capital of Montenegro. UDG offers Bachelor, Master and PhD studies and currently has 3,500 students 12 faculties and more than 40 programs – 6 faculties are registered scientific institutions: institutions in the area international economics, law, information systems and technologies, polytechnics, food technology, food safety and ecology, humanistic studies. UDG is a university whose primary aim is to awaken its students – the idea is embodied in UDG motto: "The History of Future." UDG also has an "Entrepreneurial Nest" initiative, with 70 positions for student company's development, and great investments in laboratories for students' research.
About Arizona State University
Arizona State University has developed a new model for the American Research University, creating an institution that is committed to access, excellence and impact. ASU measures itself by those it includes, not by those it excludes. As the prototype for a New American University, ASU pursues research that contributes to the public good, and ASU assumes major responsibility for the economic, social and cultural vitality of the communities that surround it.
About Cintana Education
Cintana Education enables universities around the world to increase quality and scale in order to provide more students with the education they need and deserve. We provide world class expertise and access to our own proprietary resources as well as those of Arizona State University, a top-ranked university that shares our vision of expanding access through growth and innovation. Together, we are building the Cintana Alliance, an international network of universities that will work together to meet the rising global demand for high quality post-secondary education.
Media Contact for the Cintana Alliance: Jenna Talbot, jenna@whiteboardadvisors.com, +1 760-390-6978