Powered by Arizona State University, Galala University joins the Cintana Alliance to provide Egyptian students with access to world-class degree programs and cutting-edge research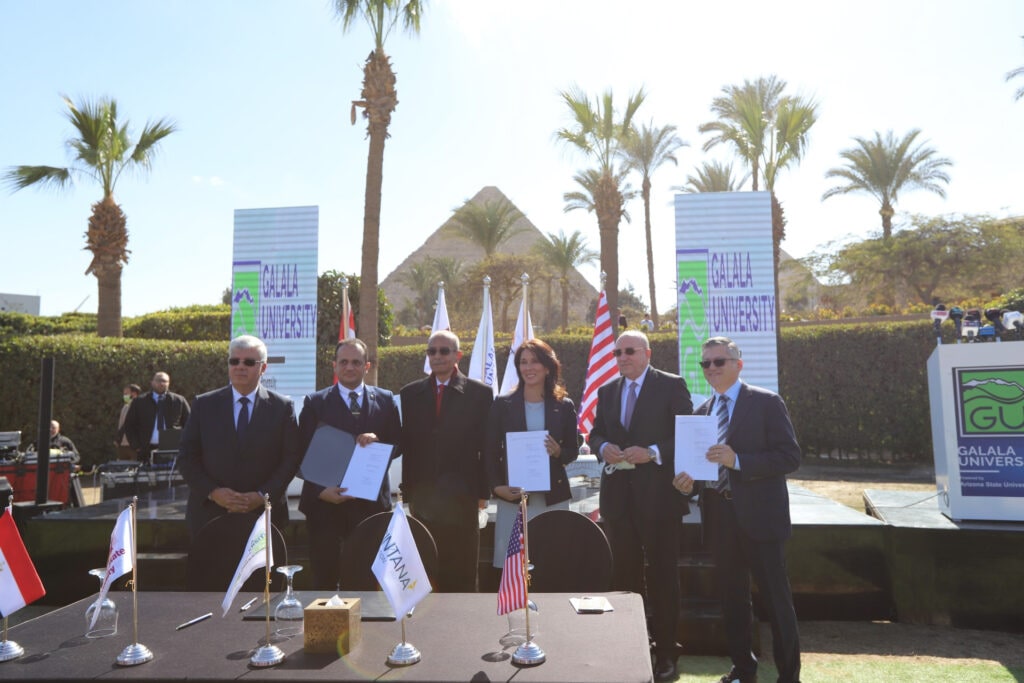 GALALA, EGYPT – January 25, 2022 –  Galala University, in partnership with the Cintana Alliance, a global network of ambitious universities working together to develop and scale high-quality academic programs, announced today a bold initiative to dramatically expand access to postsecondary education across the MENA region. Beginning in spring 2022, Galala University (GU) will offer dual degree programs with Arizona State University (ASU), recognized globally for its innovation and excellence, across a number of disciplinary domains. For the first time in Egypt, students can earn a bachelor's degree from both an American university and an Egyptian one, without leaving Egypt. 
"Over the last several years, developing new, high-quality national universities – including Galala University – has been core to the country's strategic goal in improving higher education. GU is emerging as a state-of-the-art higher education institution that aims to provide our students with the highest level of learning, skills and competencies that enables them to compete nationally, regionally and globally," said Ashraf Haider Ghaleb, acting president of GU. "Together with Arizona State University and the Cintana Alliance, we will develop a unique collaboration to achieve our strategic goal of globalization by providing GU students the opportunity to pursue dual degrees from our institution and Arizona State University. We look forward to working with our partners in the U.S."
Students will have the opportunity to earn both a GU undergraduate degree recognized by the Ministry of Higher Education, and an American-accredited degree from ASU, without leaving Egypt. Through its collaboration with ASU, GU faculty will be able to access ASU's digital content repository, and students will benefit from selected ASU curriculum throughout their degree programs. Named the most innovative university in the U.S. by U.S. News and World Report for the last seven consecutive years and one of the world's most prestigious universities by Times Higher Education, ASU has one of the largest and most comprehensive engineering programs in the U.S. and one of the largest business schools in the U.S., the W.P. Carey School of Business.
As part of the Cintana Alliance, GU will first launch the Faculty of Computer Engineering, the Faculty of Engineering, and the Faculty of Administrative Sciences in spring 2022. Students will be able to pursue dual bachelor degrees from GU and ASU in software engineering, electronics-engineering and communications, business administration, marketing and computer information systems. New programs and majors will be added in the future, further increasing the number of dual-degree opportunities students are able to pursue. Students studying art, humanities, social sciences, media and sciences will also soon be able to earn an ASU undergraduate degree by completing their final year of study at an ASU campus or online.
"Globally, higher education must embrace a leading role in driving technological innovation, preparing our next generation for the jobs of the future, and advancing a healthy society," said Michael Crow, president of ASU. "We welcome Galala University to the Alliance, and look forward to the opportunity to exchange ideas, learn from each other, and ultimately, be a catalyst for positive change in our communities."
Cintana Alliance members benefit from access to ASU's online curriculum and expertise in digital learning, insights into how to build a world-class research program, and articulation agreements that enable students to earn an ASU credential or degree. In close collaboration with ASU, Cintana will provide GU with best practices in strategy, technology, management and access to world-class curriculum, faculty and research capabilities.
"Egypt has a rich history of cultural, social, and industrial innovation. Galala University, one of the country's newest universities, stands to play a critical role in driving positive change throughout the region," said Douglas L. Becker, founder and chairman of Cintana Education. "We are delighted to welcome Galala University to the Cintana Alliance, and will work alongside them to provide the best of the Egyptian and American education systems to students, along with the opportunity to earn a degree from a top tier American research university."
GU is one of the newest universities in Egypt, established in 2020 by a presidential decree and located in the city of Galala in the mountains above the Red Sea. The university offers degrees in scientific fields and disciplines such as: engineering, computer sciences, architecture, administrative sciences, medicine, dentistry, pharmacy, nursing, physical therapy, applied health sciences technology and basic sciences. The university also includes faculty members in the fields of art and design, media production, biotechnology, artificial intelligence, nanotechnology, renewable energy and mining geology. The university is expected to grow to 25,000 students.
"Egypt's future is tied to the development of our youth as well as the youth of the Arab world and our neighbors in Africa. Part of that growth and development will come from nurturing the innovation and talent we have here in our country and the region. We are delighted to partner with Cintana and ASU to bring their premier teaching, research and technology experience to Egypt, expanding our capabilities to support that growth in the process," said Prof. Khaled Abdel-Ghaffar, Egypt's minister of higher education and scientific research.
###
About Galala University
Galala University was established to be the first-ever smart-university in the Egyptian territory, adhering to the "Fourth-Generation Universities" worldwide, which put scientific research, local and international jobs requirements, and hands-on experience at the core of its learning strategy. The University's unique geographic location in Galala city, 700 meters above sea level and only 160 kilometers from Cairo, inspires students' talent and imagination and provides an enjoyable learning experience. Staff and faculty from across the university work collaboratively to provide an outstanding learning experience to GU's local and international students, ensuring student leave with a premier education.
About Arizona State University
Arizona State University has developed a new model for the American research university, creating an institution that is committed to access, excellence and impact. ASU measures itself by those it includes, not by those it excludes. As the prototype for a New American University, ASU pursues research that contributes to the public good, and ASU assumes major responsibility for the economic, social and cultural vitality of the communities that surround it.
About Cintana Education
Cintana Education enables universities around the world to increase quality and scale in order to provide more students with the education they need and deserve. We provide world class expertise and access to our own proprietary resources as well as those of Arizona State University, a top-ranked university that shares our vision of expanding access through growth and innovation. Together, we are building the Cintana Alliance, an international network of universities that will work together to meet the rising global demand for high quality post-secondary education.
Media Contact for the Cintana Alliance: Jenna Talbot, jenna@whiteboardadvisors.com, +1 760-390-6978