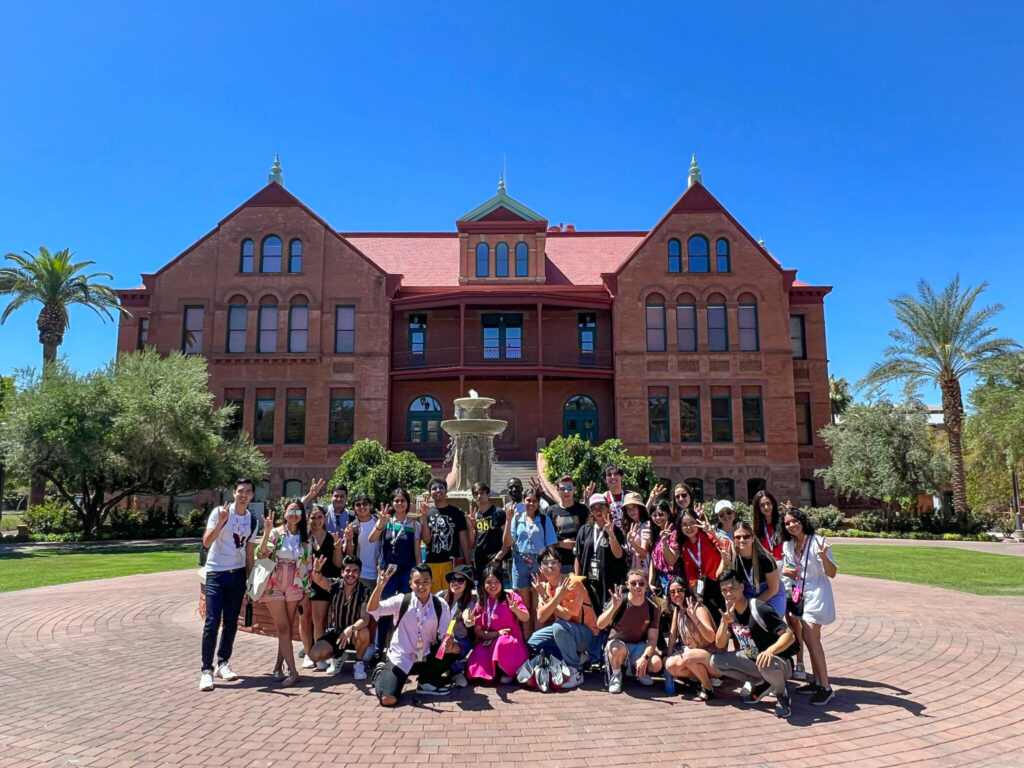 Participants of the two-week program created lifelong friendships and were inspired to make a positive impact in their communities
The inaugural Sustainability and Innovation Summer Immersion Program at ASU was a big success amongst the first cohort of Cintana Alliance students who attended the program.
Students arrived at Arizona State University's Tempe Campus on July 5, and it didn't take long for them to get acclimated to their new environment and bond with new friends from around the world, including students from the CEIPA Business School in Colombia, Universidad Latina de Costa Rica, Universidad International del Ecuador, The Northcap University in India, Universitas Esa Unggul in Indonesia, Universidad Autónoma de Guadalajara in Mexico, Mapua University in the Philippines, and the University of Economics and Finance in Vietnam.
During the program, which was hosted by ASU Global Launch, with support from the ASU School of Sustainability, the School for the Future of Innovation in Society, Thunderbird School of Global Management, the ASU School of Sustainable Engineering and Food for the Hungry students enjoyed an experience filled with interactive classes on such topics as sustainability, innovation, and entrepreneurship — all while improving their English and public speaking skills. They attended classes and live presentations with each session focusing on developing their leadership skills and learning about the United Nations' Sustainable Development Goals.
Besides attending classes and lectures in Tempe, students shared that their favorite activities included visiting Dreamscape, the Grand Canyon tour and their visit to the ASU's Downtown Phoenix campus.
The program culminated with students presenting an innovative idea addressing one of the U.N.'s Sustainable Development Goals to a group of judges, who were impressed by the caliber of the presentations and the thought and preparation that went into them.
"What made their ideas intriguing was how they contextualized them for a specific location and target population, recognizing that small changes can lead to significant impact." Said Christina Ngo, Director of Social Embeddedness at ASU's Office of University Affairs. "They added spice and flair, leveraging interesting and captivating presentation styles and approaches. My favorite presentations came from interdisciplinary teams of students who had subject matter expertise in different fields."
The bonding amongst the students was unmistakable. During the closing ceremony, they communicated affection for their new friends, remembered the memories they created throughout the program and were inspired by how life-changing it was to learn alongside people from diverse cultures. They promised to remain in touch with one another and hoped to meet again soon through other programs.
"I have met so many people from different parts of the world and that is what made this experience the best." Said Daniela H. from Universidad Internacional del Ecuador. "Because at the end of the day what makes a place unforgettable is who surrounds you."
Salvador R. from the Universidad Autónoma de Guadalajara added: "In two weeks we became so united and such a close-knit group that I don't know how I will return to Mexico now that the program is over. This full experience made us a huge family, and now I know I don't only have a home in Mexico, but I also have a home in Vietnam, Indonesia, Costa Rica, Ecuador, Colombia, Philippines — everywhere."
Students were thankful to ASU for organizing such an enriching program, and to their universities and Cintana Education for giving them the opportunity to be part of such an incredible educational experience. "Thank you, ASU, for giving me a lot of motivation to keep moving forward on my career path." Said Thu D. from Vietnam.
The Sustainability and Innovation Summer Immersion Program has laid a great foundation for welcoming future iterations of the program.
"What a great inaugural program!" said Lois Malone, Assistant Director of Special Projects at
The Office of Global Academic Initiatives. "The participants were so enthusiastic about the program, and they were a highlight of the summer. The quality, motivation, enthusiasm and diligence of the students was amazing and commented on by many ASU stakeholders that got to meet them."
The students returned to their home countries filled with new knowledge, memories, and friendships, thanks to the close collaboration between ASU, Cintana Education and the Cintana Alliance institutions. It has been a hugely impactful experience for the students and everyone involved.
Media Contact:
Lilian Clemente, Director of Communications, Cintana Education