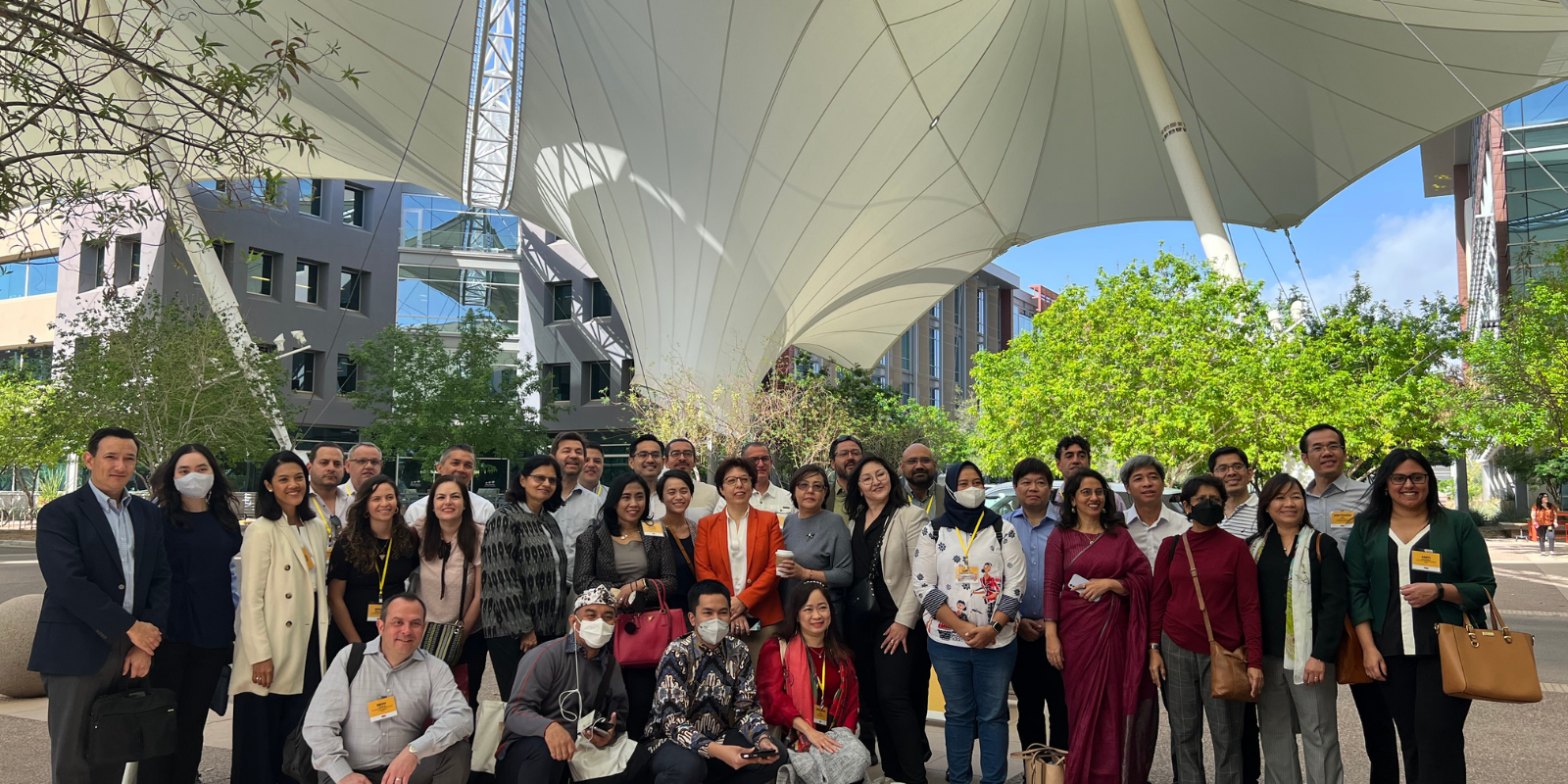 Participants, who are members of the Cintana Alliance, came from Kazakhstan, India, Ecuador, Costa Rica, Mexico, Vietnam, and Indonesia.
Tempe, Arizona – May 27, 2022 – In a continually evolving and increasingly global environment, the need to expand access to high-quality education and create unique learning opportunities for students has never been so urgent and important. The good news? Around the world, a growing number of leading universities are committed to finding innovative ways to do just that, forming new partnerships, sharing ideas, and developing new opportunities for their students to become highly educated, global citizens.
During the second week of April, members of the Cintana Alliance and partners of Arizona State University (ASU) joined the Cintana Education and ASU teams for the "ASU Cintana Experience (ACE)" in Tempe, Arizona. Attendees gathered at the ASU Tempe campus to collaborate on new initiatives, share best practices for developing solutions to challenges, learn what has made ASU the most innovative university in the U.S. for seven consecutive years, and bring back new ideas that can be implemented at their own respective institutions.
"ASU is way more than I could have imagined," said Rebecca Gallegos, Dean of Design School and Architecture at the Universidad Internacional del Ecuador. "ASU's innovation ranking is materialized in their campus. You can see it embedded in its faculty, the presentations we've received, and infrastructure we've seen. ASU embodies innovation in its DNA and makes the collaboration and global impact it promotes within our institutions a reality."
ACE attendees participated in interactive sessions led by Cintana's head of product development and client services, Emiliano Diez; and chief academic officer, Agueda Benito; met with Cintana's founder, Doug Becker; and president, Rick Shangraw; and heard from top ASU leaders including Chris Howard, Executive Vice President and Chief Operating Officer of the ASU Public Enterprise; and Julia Rosen, Vice President of Global Academic Initiatives. They toured ASU's campus facilities including the Decision Theater, School of Earth and Space Exploration, the Biodesign Institution and SkySong; and participated in the Thunderbird School of Global Management 75th anniversary celebration and new global headquarters inauguration.
"Gathering some of the world's most innovative leaders together at ASU was an incredible experience – it's so rare in this day and age to be able to spend a full week learning and growing together," said Cintana's chief academic officer, Agueda Benito. "We learned so much about each of the institutions that constitute the Cintana Alliance, and about the wonderful people that make them so special. Together, we discussed existing collaborations and how we can further advance those partnerships, and design new collaborative initiatives that will help internationalize the Cintana institutions, providing students and faculty with opportunities to develop their global mindset and their readiness for successful careers. The global positive impact of the Cintana Alliance's impact can be felt already and I look forward to future opportunities to connect."
"ACE has been a great opportunity to learn from our partners' strengths and to share ours with them," said Professor Nupur Prakash, Professor in Computer Science and Engineering and Vice Chancellor at NorthCap University in India. "By spending time together, we've discovered new ways to make our collaboration even more impactful and I'm looking forward to bringing everything I learned during ACE and start implementing it in our campus to improve our students' learning experience."
The Cintana Alliance network is growing fast. We currently have 12 innovative and ambitious members around the globe, including institutions in Ecuador, Costa Rica, Mexico, India, Kazakhstan, Ukraine, Montenegro, Turkey, Egypt, Indonesia, the Philippines and Colombia.
To learn more about the Cintana Alliance and our partner institutions, please visit www.cintana.com/cintana-alliance.
Cintana Communications Contact
Lilian Clemente
lclemente@cintana.com